HUYA stock dip presents buying opportunity for long-term investors
HUYA is the number 1 video game live streaming platform in China, which is the largest consumer of video game content in the world. HUYA also boasts having the most active broadcasters as well as the most time spent by active mobile users of any video-streaming platform in China. Receiving a huge pandemic bump in terms of audiences being stuck at home, and consuming more streaming content, HUYA revenue reached $1.67 billion in 2020, growing 30% year over year. With a net income of $200 million which approximates to 81 cents per share, the company is also growing in profitability, rising 64% from 2019 to 2020. With strong earnings and growth potential, a large user base in a popular industry in one of the biggest markets in the world, HUYA seems to be a no-brainer long-term investment. All this begs the question...
Why the dip?
There are a number of speculative reasons why HUYA stock has been falling steadily about 47% since February, and 7% of those losses coming in the previous trading week. After excellent growth in 2020, partially facilitated by the coronavirus pandemic, China getting the Covid-19 situation in control has caused investors to speculate and form the sentiment that the pandemic bump in the 2020 year may be over. The trepidation about 2021 growth has caused many investors to pull back. HUYA has also been long awaiting a merger of DouYu a streaming competitor, with which they announced a merger agreement. However, there are regulatory concerns regarding whether China's antitrust authority will allow this merger to go through. These rumors and reports are exacerbated by the antitrust authority's recent blitz against companies like Alibaba and Tencent who have been stifled by regulatory actions.
Why the market will reward those who take this risk on HUYA...
Despite receiving a pandemic bump, HUYA has been growing its user base, revenue and profitability steadily throughout 2017-2019.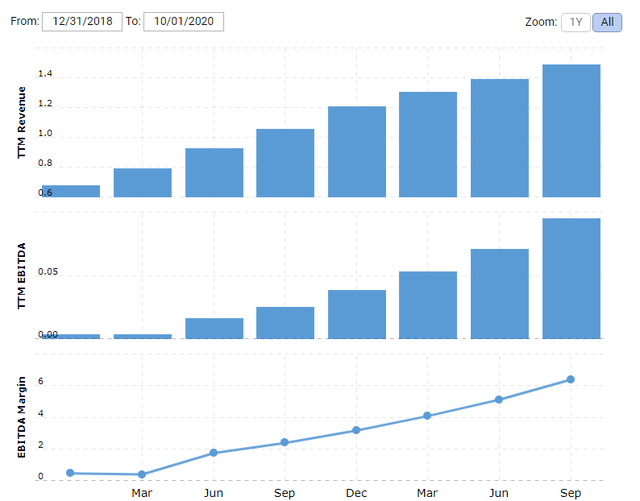 The above chart sourced from Macrotrends shows the Revenue and EBITDA in the TTM from the end of 2018 to the beginning of 2020, establishing the trend of growth before the brunt of the pandemic's impact was felt. Even if the pandemic bump may not follow through in 2021 as some investors have speculated, HUYA still has strong growth potential, and for long term investors this should not be a concern. Another fact to soothe these concerns is that HUYA is currently tradeing at a P/E ratio of 34 times of its earnings, which is rather cheap comparing it to other streaming industry companies such as Netflix, which is trading at a P/E of 62. This dip is presenting a significant buying opportunity for those who can realize how undervalued HUYA is.
With earnings scheduled on May 18th, first quarter financial results of 2021 will be crucial to determine the direction that this stock may trade in the short term. Call options activity is indicating that many are bullish about a reversal after earnings, with a pre-earnings bullish diagonal trigger being present for HUYA inc.
One thing that investors should also know regarding the dip, is that merger announcement resulted in an increase in short-selling. This may seem counterintuitive since the merger announcement is objectively good news for the company outlook, but the short interest of 33.57% in response to the merger is most likely because of institutional interest in implementing a merger arbritage strategy to profit off the stock post merger. This short interest is not consolidating due to a bearish stance towards HUYA's performance, but rather as a way to potentially profit from the merger through arbritrage. If the merger does go through HUYA stock can rebound, and if it does not go through we will most likely see the short interest formed as a merger arbritage play evaporate.
Conclusion (TL:DR)
Overall, many important events are about to unfold for HUYA in the short term and it remains to be seen how upcoming earnings, the potential merger, movements in call options activity and the short interest situation will play out. The results of these could spell out a bullish reversal, or a further sliding down in the share price. However, for long-term investors it is clear that this is a great opportunity to get in to an extremely undervalued streaming giant at a significant discount.