Why hello my dear smooth brained simian friend! Magnus here, how goes the good old speculatory bets, ei? Did thy maketh bank over on CNTX? Or were you caught train chasing? Maybe a bit of both?
*Waves a hairy hand in the air*
Tis' of no consequence, after all, we are not here for the plesantries! Let me draw your attention for a few moments to a company that has recently popped up on the old radar…
[Source: IN8bio's website]
IN8bio was founded in 2016 by William Ho and Dr.Lawrence Lamb.
The company's original name was Incysus Therapeutics. This was changed in August 2020. [Source: Endpoints News]
IN8bio Inc is a clinical-stage biotech company focused on developing "allogenic, autologous and genetically modified gamma-delta T cell therapies". [Source: IN8bio's website] or in simpler terms "developing the next generation cellular therapies for treating cancer" [Source: IN8bio's website].
They are located in New York City and it's primary scientific operations take place in Birmingham, Alabama.
Now I know that there were quite a few mouth fulls of words there. I will leave it to Mr.William Ho (COE & Co-Founder of the company) to explain things in simpler terms in this interview "360 Spotlight: IN8BIO (INAB)" on the TD Ameritrade Network YouTube channel.
"What's unique about our technology is that we actually created a way in which we can combine chemotherapy simultaneously with the cell therapy, thats typically challenging because many of the chemos will actually directly kill the cells so that the cells are no longer functional. We have a unique approach, what we call out DeltEx drug resistant immunotherapies. That allow us to combine both simultaneously [...] to potentially eradicate the tumors.
[...]
"Our leukemia product is infused intravenously through the arm and our products to treat glioblastoma patients is actually inserted through a port that is inserted into the patients head during surgical resection.
[...]
As I mentioned today we have two programs one for leukemia and one for glioblastoma but we believe our cells can be used across a number of other solid tumor and liquid tumor indications and so we are continuing to progress our pipeline and or efforts to get into other tumors outside of those two."
Moving on from the video, do let us take a look at this snippet taken from their website:
Key elements of our approach to treating cancer include:
Advanced expertise in the manufacturing of ex-vivo, expanded, activated gamma-delta T cells
First-in-class proprietary gamma-delta T cell engineering for chemotherapy resistance
Advanced next-generation, closed-system, scalable, gamma-delta T cell manufacturing
Broad applicability of our engineered DeltEx cells across multiple solid tumor indications
You can also find more information in their "IPO Presentation" that can be found here.
Their candidates
IN8bio's main candidate/focus is on what they call "The DeltEx Platform". This is a series of therapies that combine their genetically modified, drug-resistant, gamma-delta T cells with existing immunotherapy treatments (namely chemotherapy).
More info on their DeltEx platform can be found here.
Let us also have a look at their pipeline, ei?
[Source: IN8bio's website]
Their INB-100 & INB-200 candidates are already in phase 1 clinical development. Not the juiciest of phases if one is to trade the hype, as at this point they are making sure that the treatment won't harm the patient.
We can also see that while the INB-200 candidate is in phase one for its potential use against Glioblastoma. INB-200 is also in pre-clinical trials with two different approaches for it's effects against solid tumors.
They also have two more candidates in pre clinical trials:
INB-300 for its effects on Glioblastoma.

INB-400 for its effects on Brain and other solid tumors.
Not a bad array of candidates. But when can we expect some data (and consequently hype) on these candidates? We can find a nifty little chart in their S-1 filing.
Back in October they announced their peer-reviewed publication of the pre-clinical results for INB-200. The paper can be found here.
In November the company made 3 presentations:
On the 4th of November they presented:




"A Pivotal Role for Concurrent Chemotherapy and γδ T Cell Therapy (Drug Resistant Therapy - DRI) in the Post-Induction Primary Disease Setting for Reducing the Immunosuppressive Properties of the Tumor Microenvironment"

at the Protein & Antibody Engineering Summit (PEGS) Europe.




I couldn't find the paper online, maybe you can.

On the 13th of November they presented:




"Chemotherapy Resistant Gamma Delta T-cell Immunotherapy can leverage synergistic ligand expression through combinational chemotherapy and PARP-inhibitor use to enhance tumor cell recognition & killing"

at the Society for Immunotherapy of Cancer (SITC) 36th Annual Meeting.




You can

read the abstract here

. You can find the paper

here

.

On the 19th of November they presented:




"Dual chlorotoxin CAR and MGMT γδ T cells for drug resistant immunotherapy of glioblastoma multiforme"

at the Society for Neuro-Oncology 26th Annual Meeting. You can find the paper

here

.
To help put things into perspective:
INB-200
DeltEx for Glioblastoma (currently in phase 1). You can find the paper they published of their preclinical results here. We can also read the abstract for the first cohort phase 1 clinical data here.
DeltEx DRI + PARP Inhibitor for Solid tumors (currently in pre-clinical trials). The presentation of their preclinical results took place at the SITC 36th Annual Meeting. Their PR piece can be found here and the abstract for the paper can be found here.
INB-300
Presented some preclinical data at AARC, find the abstract here.
There should be some more data to come with top-line phase 1 results for their INB-100 candidate are expected "in 2022".
They also plan on filing INDs (Investigational New Drug Applications) for their 2 other approaches for INB-200 (DeltEx DRI + Checkpoint & DeltEx DRI + PARP Inhibitor) during 2022.
This means that so far they are on track with their anticipated milestones.
Who is on the team?
William Ho - Director, President, CEO & Co-Founder
Lawrence Lamb, Ph.D - Executive Vice President, Chief Scientific Officer & Co-Founder
Patrick McCall - CFO
Trishna Goswami, M.D. - CMO
Kate Rochlin, Ph.D. - Chief Operating Officer (recently promoted from Vice President of Operations and Innovation)
Charles Butler - Vice President of Investor Relations & Communications
Luba Greenwood, J.D - Director
Alan S.Roemer - Director
Mariska ter Haak - Director of Analytical Development
[Source: IN8bio's website]
[Source: Linkedin]
Look them up if you must, I'm just going to go a little deeper into the background of doctor Trishna Goswami.
Trishna Goswami, M.D.
Dr.Goswami has worked previously (2017 - 2018) at Stemline Therapeutics,Inc as the Senior Medical Director. And although Dr.Goswami left in 2018 the company went private in 2020 at $12.50 a share.
STML share price over the past 7 years (until acquisition).
[Source: advfn]
After her time with Stemline Therapeutics, Dr.Goswami went on to work as Vice President of Clinical Development at Immunomedics (IMMU). Immunomedics was purchased by Gilead Sciences (NASDAQ:GILD) in 2020.
The deal went down for approximately $21Bn at a price of $88 a share.
[Source: Gilead's website]
IMMU share price over the past 7 years (until acquisition).
[Source: advfn]
Curiously, recently the former CFO of Immunomedics was recently charged with insider trading, but you can read about that here.
From 2020 until recently Dr.Goswami worked at Gilead Sciences as VP Clinical Research Oncology, Gilead; formerly VP of Clinical Development at Immunomedics.
As mentioned previously, Dr.Goswami is now the Chief Medical Officer at IN8bio Inc.
Why should any of this be of interest? Of course I am most certainly just picking out Dr.Goswami for her incidental previous employment in multi-bagging companies to confirm my bias.
It most probably is coincidence over causality but Dr.Goswami has previously worked at 2 different biotech companies that were both bought out for some sizable gains to their investors. Albeit that speculators in Stemline Therapeutics only saw gains if they "got in" at the right time.
Ownership, float & outstanding
The company IPO'd on the 3rd of August 2021 with an issuance of 4,000,000 shares of it's common stock at $10 per share for net proceeds of $32.3M.
When the IPO closed, all of the company's outstanding convertible preferred shares automatically converted into 10,990,065 common shares.
During the 9 months that ended on the 30th of September 2021, the company had raised an additional $25.5M through the issuance of Series A convertible preferred stock.
There were 18,754,553 shares issued and outstanding as of the 30th of September 2021.
[Source: SEC Filing]
There were 18,754,553 shares issued and outstanding as of the 3rd of November 2021.
[Source: SEC Filing]
The quiet period expired on the 8th of September 2021.
The lockup period (180 days) expires on the 26th of January 2022
[Source: Nasdaq]
The cash situation
"Little" R&D biotech companies rarely ever make a pretty penny. How much cash they have on hand and how much they burn through per year can be some important information. Obviously a company strapped for cash is on its way to the gutter, However it can also indicate to us how if they will need to raise capital (generally by means of an offering) in the near future.
In accordance with their 10-Q filing from the 30th of September we can check out their condensed statement of cash flows:
Seems pointless to have posted that now that I think of it, but I suppose it breaks up the wall of text. You can find the larger image here or in the 10-Q.
Anyway, Net cash used in operating activities is ~$11.3M and they have ~$40.7M in cash and restricted cash.
As mentioned in the filing:
"Management believes that its existing cash of $40.7 million as of September 30, 2021 will be sufficient to fund its operating expenses and capital expenditure requirements for at least 12 months from the issuance of these condensed financial statements."
With the $40.7M cash and a market cap of ~$100M, IN8bio is trading around 2.5 times their cash pile.
The chart
[Source: TradingView]
It's heading south doing a little channel play as it goes. The $5 - $5.20 price region would be an interesting entry to see if the channel continues.
Draw thy own lines, for whatever it may be worth…
Analyst ratings
When I started writing this there were just 2 analyst ratings out for IN8bio, Inc (by B.Riley Securities & Mizuho). One at $19 and the other at $12 giving an average of $15.5.
[Source: Nasdaq]
However, since I began to write this, Zacks Investment Research has "Upgraded to buy", they set their price target at $8. This would bring the average down to $13, still more than a 100% gain from these prices.
Now, of course an analyst's opinion about a biotech stock is about as valid as that of a monkey on the internet. These analysts could just be overly confident in the company. Have some interest in the company. They could also know something we don't. Either way I'm gonna throw this in here to further justify my opinion.
A timeline of news
Here I will present you with a timeline of the "news" & "PR drops" I could find on the interwebs:
April, 2nd
A rather extensive article on Seeking Alpha, named:
"IN8bio Refiles For U.S. IPO"
It makes for a good read.
April, 9th
Globe News Wire posted:
"IN8bio Demonstrates In Vitro Activity of DeltEx DRI CAR-T Cells Against Glioblastoma Multiforme at AACR"
May, 20th
Global News Wire writes an article titled:
"IN8bio Presents First Cohort Phase 1 Clinical Data on INB-200 at American Society of Clinical Oncology (ASCO) 2021 Annual Meeting"
January, 22nd
Birmingham Business Journal wrote an article named:
"IN8bio moving out of Innovation Depot to new space at Pepper Place"
June, 7th
Globe News Wire posted:
"IN8bio Completes Treatment of First Cohort in Phase 1 Clinical Trial with Gamma Delta T-Cell Therapy in Patients with Newly Diagnosed Glioblastoma Multiforme"
July, 22nd
Globe News Wire posted an article about the initial IPO:
"IN8bio Launches Proposed Initial Public Offering"
August, 5th
A curious piece was written on Yellow Hammer News, the title is:
"Birmingham-based biotech startup launches IPO, expands base in Alabama"
August, 30th
Global News Wire wrote:
"IN8bio to Present at the NewYorkBIO Virtual Breakfast Series and H.C. Wainwright 23rd Annual Global Investment Conference"
Not much to read, it is literally just the announcement and the dates of the webinar & video presentation.
October, 19th
Endpoints News dropped an article named:
"Bringing their genetically modified gamma delta T cells to Nasdaq, IN8bio files for $86M IPO"
You can guess what it's about, still an interesting read.
October, 29th
Simplywallst posted:
"What Kind Of Investors Own Most Of IN8bio, Inc. (NASDAQ:INAB)?"
Pretty sure it's an algo-generated article…
November, 1st
Simplywallst posted an article with the title:
"Here's Why We're Not Too Worried About IN8bio's (NASDAQ:INAB) Cash Burn Situation"
Again, it is probably an algo-generated article.
I couldn't find the link to the original article.
December, 6th
Evaluate posted an article titled:
"Adicet scores the first hit for gamma-delta"
While the articles main focus is Adicet, IN8bio is mentioned (although not in a fine manner)
December, 8th
UAB (University of Alabama at Birmingham) wrote an article titled:
"Cancer-fighting spinoff from UAB grows through IPO, clinical trial and new lab space in Birmingham"
It's rather an interesting (lathering up of bias) read and I highly recommend it!
You can find information on upcoming events on their website and their twitter profile.

The monkeys opinion
Everybody wants a 100%er… when FOMO kicks in it can make that happen real fast.
IN8bio is a "new" relatively small (market cap of around $100M) biotech company with 4 candidates in the pipeline, one undergoing 3 different approaches.
We have had positive data recently across the board with more expected in 2022.
The company has roughly 18.75M shares outstanding. It's current price is sub $10 and sub-IPO price.
The float is currently either: 3.25M (Yahoo Finance), 12.42M (Market Watch) or 15.91M (Finviz), who knows… Either way there is only 18.75M outstanding, which on some serious volume can be eaten up fast.
The price targets are well above the current price point.
"Cancer", "genetically-modified" & "gamma-delta T cells" are some nifty buzz-words that can and will be thrown around.
IN8bio does some FOMO appeal to it.
"That volume though…"
With an average volume of 26,000 shares traded daily the volume is sincerely abysmal. Any one looking to trade anything but tiny positions will probably end up stuck (for the meantime anyway). This tiny volume could also be an indication that simply no one has taken any notice of this company. The watchers-count on StockTwits would also seem to re-enforce this idea (or my bias… or both).
[Source: Stocktwits]
Bottom line
Tiny positions opportunity to trade that channel.
They have lots of candidates in their pipeline so rocket fuel could come in future PRs & data-releases (if people begin to take notice). Keep an eye on social-media mentions and news drops.
Always be wary of dilution on price spikes (this is the world of biotech after all) and yes, offerings do generally mean "the party is over".
Most importantly, take profits dear fellow! Holdeth not the bags of shame!
"Bulls make money, bears make money, pigs get slaughtered"
- A wise monkey, probably…
- Magnus Chimpski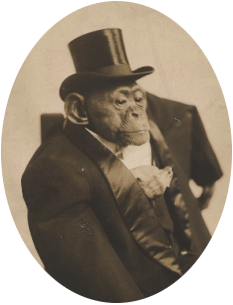 Disclaimer: This is not financial advice. It is an opinion. Magnus is not a financial advisor.
Magnus is infact a fictitious smooth brained simian of the interwebs, to take advice from an internet monkey would be insane.
- End of transmission