The company reported amazing results in March, here you can find the report where I had published my forecast and here my considerations after the Q4 earning release. I recommend the readers to read both the articles as the shelf offering, the Chinese market developments and the consideration on the US JV with Cummins are all well described there.
In March, Mr. Market was not so keen on the lack of details of the Weichai launch, and the negative environment towards green stocks contributed to the downward pressure on the stock price.
In this report I will lay down my forecast for the incoming Q1 2021 earning release, to be published on the 6th of May 2021.
The company reports two revenues segments, OEM and IAM:
OEM is the segment for HPDI 2.0 kits, for the moment mostly sold to VOLVO, and of light duty CNG and LPG kits installed at the factory of the automotive manufacturer (Volkswagen and others);
IAM is the after-market segment for both passenger and commercial vehicles.
The Cummins Westport JV and the Indian market JV are accounted with the equity method; thus, I will analyze them separately.
I expect the company to report $80 million in revenues and $2 million of net income, against analysts expectations of $73 and $-2 million respectively.
OEM segment, HPDI focus
Since last year, LNG truck market in Europe has showed a tremendous rate of growth. Looking at Chart Industries earnings report ($GTLS), we can have an idea of how the market is performing.
Chart supplies LNG tanks to European market leader IVECO ($CNHI). Here an extract of Chart's Q1 2021 earning release:
Speaking of LNG, HLNG vehicle tanks continued the "record" streak that began in the fourth quarter of 2020, outpacing prior periods again in the first quarter of 2021 with record sales and orders of $28.3 million, just under last quarter's record ($29.1 million). This is driven by expanded interest in LNG over the road trucking from customers and geographies as well as growing restrictions on diesel trucking in Europe. Since January 2021, nighttime transit for diesel Euro IV trucks on the Inntal motorway in Austria is not allowed, so LNG trucks allow for business owners to continue to transport goods overnight. For example, OMV Turkey is using LNG trucks (with Chart tanks!) and increasing activity for LNG trucks and buses in locations such as Japan and India.
But how VOLVO truck is performing? Exact market shares are not publicly available, we only know that historically IVECO has maintained a 50-60% market share in Europe, thus my analysis relied on a VOLVO truck market share of 20-25%.
Most notably, in December 2020 the UK group ASDA took the delivery of the greatest to-date VOLVO LNG trucks order, totaling 202 new units, reinstating the intention to further convert its 1000 trucks fleet from diesel to LNG. In the course of 2021, 300 new LNG trucks should join the retail group.
Another logistic operator in the UK, Gregory Distribution, plans to convert part of its 1000 diesel trucks fleet to more sustainable alternatives. In February 2021, the group installed its first bio-LNG refueling facility with the help of GASREC, ordering additional 13 VOLVO LNG trucks (20 units the total amount).
UK logistics operators that are buying VOLVO LNG trucks will rely on multiples refueling sites provided by GASREC (the mobile units are manufactured by Chart Industries). Here a snapshot of what the UK gas company expects in 2021, published last February: "Gasrec plans to increase the size of its Bio-LNG (liquified natural gas) tanker fleet by 300%".
"Just as we've been expanding our team and planning new refuelling sites, this investment will ensure our tankers can keep pace with rising demand for what is currently the only truly sustainable alternative fuel for long-haul trucks."

In comparison with Euro-6 diesel, a typical 6×2 tractor unit operating on long-haul work and running on Bio-LNG emits around 90% less NO2 emissions, 99% less particulate matter and 95% less CO2, according to Gasrec.

Fleets transitioning to renewables are playing a key role in helping to meet the government's voluntary target of reducing greenhouse gas emissions from HGVs by 15% by 2025."
In my previous report, I estimated the total number of LNG trucks sold in Europe in 2020 to be around 9000 trucks, supporting the number with the DENA research data of new state funding applications in Germany for LNG trucks . DENA research signaled that, in 2020, new applications reached the amount of around 3000 units, but evidently most of these are going to be delivered in the course of 2021.
That is why, from ACEA statistics on annual registration by fuel type, we see that 7239 natural gas trucks were registered in Europe in 2020.
From Westport's Annual Report, we know that VOLVO accounted for $55 million of revenues in 2020.
HPDI 2.0 revenue estimate for Q1 2021:
We know that in Q1 2020 a total of 65'000 - 70'000 heavy duty trucks were registered in Europe.
if we assume that LNG have a market share of 3.50%
if we assume that VOLVO has a market share of 25%
if we assume a price per unit for HPDI 2.0 of $35'000
We get a revenue estimate of around $20-23 million for the first quarter alone.
OEM segment, light-duty focus
As I mentioned in the previous report, light-duty CNG and LPG vehicles faces some difficulties in Europe, as regulatory framework appears to be more favorable for battery electric alternatives. The most important development for the European market is the one of Luca De Meo's Renault, which signaled in January the intention of supporting around 100'000 retrofits per year of existing diesel vehicles to bio-CNG and electric vehicles alternatives (please note that 100k per year would represent around a 10% increase of the market globally).
Historically, De Meo has been a keen supporter of LPG and CNG alternatives, and this may explain the reason why the sale of new LPG cars is growing so much in France. Again, thanks to ACEA statistics, we get the exact amount of CNG and LPG cars sold in Q1 in Europe (please note that we refer to brand new cars, retrofitted models data are not easily available):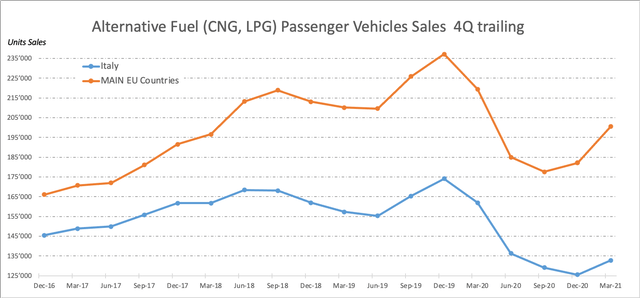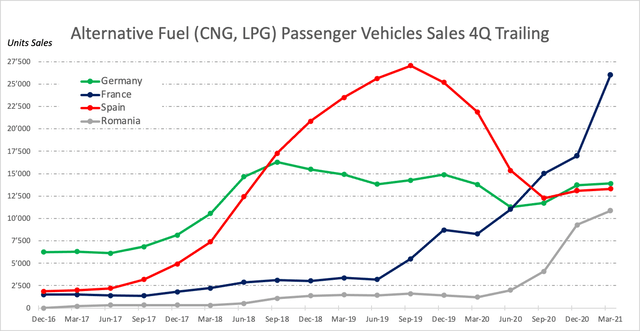 Here above the trailing data for CNG & LPG cars in Europe in the last four quarters; as you can see, the French market is performing extremely well thanks to the LPG models of Renault. In Q1 2021 in the main European markets (Italy, Germany, France, Spain, Portugal, Belgium, Netherlands, Poland, Slovakia, Czech Republic and Romania) 58'573 cars were sold. The equivalent numbers for previous quarters are:
Q4 2020 67'624
Q3 2020 61'661
Q2 2020 33'290
Q1 2020 37'912
For these reasons, I expect this segment to account for around $29-31 million for Westport Q1 results.
IAM revenues and Total Revenue estimates
On average in the last 8 quarters, IAM segment account for $30.5 million revenues, we can thus apply a range of $27-30 million for Q1 2021. The revenue recap is the following:
HPDI 2.0, $20-23 million.
Other OEMs, $29-31 million.
IAM revenues, $27-30 million.
Total estimates are in the $76-84 million range, while Wall Street's analysts expect $73 million.
For net income estimates, it is crucial to consider the contribution of the JV with Cummins in the US and the UNO MINDA JV for the Indian market. Given the positive momentum of natural gas mobility in the USA (see focus section below), I expect the Cummins Westport JV to contribute for around $7 million for Q1 2021 (in previous four quarters it contributed with an average of $6 million). The Indian JV was profitable for the first time in Q4 2020 with a bottom-line result for Westport of $0.5 million, therefore I expect around $0.5 for this quarter too.
Given a similar EURUSD forex trend in Q1, inferior interest expenses (the expensive convertible notes are not hurting anymore) and slightly incremental R&D expenses, I expect Net Income to be in the range of $2-4 million, against analysts' expectations of a $-2 million loss.
FOCUS - US Market developments, Amazon ($AMZN) and Clean Energy Fuels ($CLNE)
Amazon moves in the last few months represented the most important form of support ever received by the Natural Gas transportation sector. In February 2021, Reuters reported the intention of Amazon to buy 700-1000 spark ignition natural gas trucks from Cummins Westport, the JV equally owned by Westport and Cummins ($CMI). The news was enough to push Westport's stock price at new 5 years highs, but from a revenue and net income point of view this order is not enough to move the needle for anyone.
Amazon logistic managers may have noticed the amazing growth of Renewable Natural Gas supply in the USA. In 2021, more than 50% of all natural gas used by the US transport sector was coming from renewable sources.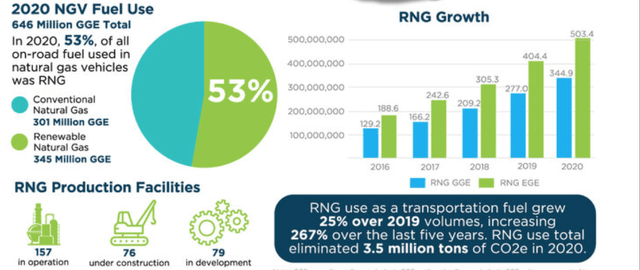 Major oil companies expect to further increase investments on Renewable Natural Gas production plants (Total, BP, and Chevron all signed different agreements with Clean Energy Fuel or other operators in this regard). Chevron in particular expects to increase production of RNG by 10x by 2030.
But what is the driver of the interest in RNG? A part of the answer relies in a special Credit System created in California to support low carbon fuels. The Low Carbon Fuel System calculates the carbon intensity of a specific fuel directly in the manufacturing plant. For the second consecutive quarter, the California Air Resource Board certified that RNG in the state recorded a negative carbon intensity.
The LCFS system is currently adopted in California, Oregon and British Columbia. The State of Washington is planning to adopt it by 2023 and some plans exist to make it a Federal plan (RNG creates a further revenue stream for farming communities, thus from an electoral point of view few politicians would be brave enough to do not support it).
A sign that current Secretary of Energy is fully aware of the benefits of RNG for the HD truck sector is contained in the news of the grant of $61.4 million from the DoE for biofuels and RNG R&D projects.
Therefore it becomes clear why, later in April 2021, Clean Energy Fuel (the largest network of CNG & LNG stations in the US, partially owned by French oil company Total, committed to sell 100% of Renewable Natural Gas by 2025) announced a supply agreement with Amazon. The deal is remarkable for the industry for a number of reasons:
CLNE owns or manage around 550 stations, and Amazon agreed to use 27 of them and to further upgrade or build additional 19 stations. The total amount of stations at non-exclusive service of Amazon should be around 46.
In 2020 CLNE sold 382 million gallons, in 2019 around 400 million gallons, for around 48000 vehicles associated with them.
On average, in a no-COVID time, a Clean Energy Fueling station provided around 0.7 million gallons per year.
If we assume that on average a Natural Gas truck consumes around 8000 gallons per year (400'000'000 / 48'0000, but average is more like 11'000 gallons per year), it is easy to see that the 700 trucks bought by Amazon would consume less than 5.6 million gallons, thus absorbing just 8 stations volumes. As a reminder, we are talking about upgrading or using 46 stations, six times this amount.
It is evident that Amazon thinks that in the future there will be many more natural gas trucks on US roads. They are so certain about this, that Amazon also requested to have the option to be part of the shareholders of Clean Energy Fuels.
Indeed, Amazon was able to get the possibility to buy (through warrants in a 10-year time span) a total of 53 million shares of the fueling station company at a strike price of $13.49 per share. It is quite obvious that the intention of Amazon is to profit from the growth of natural gas mobility in the incoming years, selling those shares at higher price to pay the cost of fuel of its logistic operations.
Therefore, the most important point of the discussion is: what Cummins will do with the Cummins Westport JV? For further focus on the Joint Venture Agreement between the companies I post here my October 2020 report .
I think that Cummins has not any interest in disappointing its smaller partner. Given that the other half of the JV has for each of the parties a price equal to 130% of TTM operative revenues (around $130 million), two important considerations need to be done:
Cummins can buy the other half, but it is quite clear that a non-competition agreement for the spark ignition engines has to be included in the deal. In this case, the overall price must be considerable higher, given that the trucks sector may dramatically shift towards RNG mobility, and further opportunities subsist in the diesel train conversion (see Optifuels and Cummins Westport);
Even if Westport agrees to a non-competition agreement with Cummins in the spark ignition NG segment, and let's say receives $250 million or more, HPDI 2.0 can still represent a threat for both the diesel and LNG offering of Cummins in North America. HPDI is compression ignited technology currently licensed to VOLVO and Weichai. Both the companies have the option to sell the engines globally (VOLVO is a client of Cummins Westport in North America).
Therefore, Cummins has four different options:
Renew the JV, asking Westport to put HPDI 2.0 license on the table.
Buy the other half of the JV, asking Westport to put HPDI 2.0 on the table and granting higher compensation than in the first case.
Buy Westport, but current and future valuations may decrease the likelihood of this scenario.
Buy the other half of the JV, saying goodbye to Westport.
In the fourth scenario, it is clear that Westport may fall in the hands of Weichai in a matter of seconds. Weichai could either buy a stake in Westport (like they did in regards to Ballard, 20% of the share capital, and Ceres Power, 25% share capital) or favor a merger between Ballard and Westport.
Ballard valuation may favor the possibility of a merger of the two Vancouver based companies. The merger would create a Canadian champion in the alternative fuels mobility landscape that will own the best PEM fuel cell technology, the HPDI 2.0 patents, and the control of the hydrogen and methane components manufacturing lines (valves etc.) for the automotive sector.
The merger would be relatively cheap for Weichai, and Cummins will have a powerful rival right at the North American border. As a reminder, the previous CFO of Ballard, Mr. Guglielmin, is now a director of Westport.
Chinese market focus, the Weichai launch
I have always suspected that the current diplomatic feud between Canada and China is not favoring trading activities between the two countries. Still, the latest development of the Meng Wanzhou trial in Vancouver may support the possibility that she will be released, and that the relationship of the two countries may restart on positive note. Mrs Meng Wanzhou has plenty of time to analyze the HSBC documents that the Hong Kong court granted to her, and at the same time Biden Administration may drop the sanctions against Iran. In this case, the crime of Huawei would not subsist anymore.
On a positive note, I have been looking online for some more information about the Weichai launch, and I have been pleased the preview of two models that will be equipped with the HPDI 2.0 engine:
SX4259XD4TLQ3 Shaanxi Automobile brand 460 horsepower rear double axle, rear eight-wheel diesel/LNG dual fuel national VI tractor vehicle (in Chinese: SX4259XD4TLQ3 陕汽牌460马力后双桥,后八轮柴油/LNG双燃料国六牵引汽车);

It si reasonable to assume that revenues from China will start to materialize this year, as Westport's CEO preannounced. The exact timing may depend on a range of factors, but the factsheets of two models on two different chinese website is definetely reassuring.